This should please fellow-blogger Unmanager: I often speak kindly of this alderman, but I'm going to pick on Venita Hervey a little bit tonight. I still say she has potential, but indeed, these past few weeks, she's particularly been a lapdog for Larry at a time when aldermen should be ganging up on His Honor to take back the city's checkbook.
During last night's council meeting, Hervey actually accused aldermen who balked at giving Assistant City Administrator Julia Valdez a $34,000 raise (while facing at least a $5,400,000 deficit) as being sexist. Really, "Lady V?" Sounds like a litigation-happy lawyer's wishful thinking.
No one said Valdez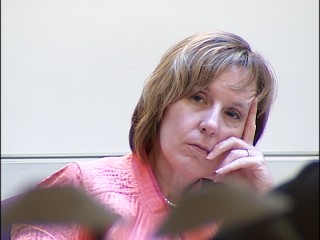 shouldn't be appointed. Most aldermen, after getting an earful from constituents, just think such a huge raise should be out of the question given the current financial hardships. Their position is simple: Let's get the budget in order before we decide how to proceed long-term with the HR director position. God forbid a little fiscal responsibility, especially if it goes against the mayor's childish wishes and uncompromising sense of pride and stubbornness.
Granted, the council is made up of bumbling buffoons who view public service as an elitist hobby for which they're not really directly accountable, but I seriously doubt they're against replacing one woman (a minority, no less) with another female as HR director (which Valdez would do on top of her existing responsibilities, "assisting" City Administrator Jim Ryan, apparently).
"The mission of the Human Resources Department is to support the goals and challenges of the City of Rockford by providing services which promote a work environment that is characterized by fair treatment of employees, open communications, personal accountability, trust and mutual respect. We will seek and provide solutions to workplace issues that support and optimize the operating principles of the City of Rockford."
-City of Rockford Human Resources mission statement
Considering that there should be a hiring freeze anyway (we are talking about cutting fire fighters and cops, right?), I just don't see $34,000 of extra work for Valdez to be doing in human resources. If a position absolutely must be filled, let the head of that particular department deal with screening and hiring applicants.
There, I just offered a cost-saving opportunity, and without billing taxpayers for my advice, as city and county officials elected to make these decisions are now poised to do by hiring yet another consultant. Jesus, I'm in the wrong business. Fleecing taxpayers is where the real easy money is. Recession, you say? Not when it comes to public officials spending other people's money. The gettin' has never been so good.
Supporters of Mayor Morrissey's appointment of Valdez say it's not a raise, but rather a way to save $90,000 by combining the two positions into one. This notion reminds me of TV commercials advertising sales (a/k/a "savings events") where "the more you spend, the more you save." Bullshit. As another old infomercial once asserted, "Stop the insanity!"
Taxpayers, a majority of aldermen have recognized, just don't see the raise as savings, either. It's simply in poor taste for anyone in the administration to be getting a salary increase for any reason. Those of us who have jobs are counting our blessings right now, and we know this is not a time for anyone to expect a raise, even if we're taking on more responsibilities to ensure the solvency of our employers.
Adding insult to taxpayer injury, Mayor Larry was quoted in the daily as saying Valdez's appointment and raise would "eliminate the exposure we'd have to a civil rights lawsuit based on discrimination."
WHAT?!
Tell us, Larry, did Julia threaten to sue, or was that your idea?