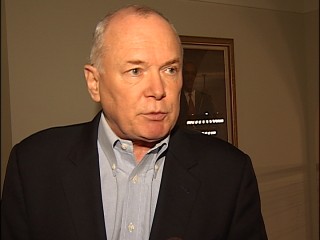 What kind of a thankless leech can find a reason to complain about being handed $50,000 in public funds to beat a horse most Rockfordians have no interest in riding? Read on.
Is this Ed McCollough hack, a Morrissey contributor, rubbing anybody else the wrong way with his whining, while being paid $48,000 a year?
Seems to me that tax dollars given to downtown groups like the Element and River District would go a lot farther if these groups were led by people who didn't require salaries to pretend to give a shit.
Wouldn't it be great if creative, artistic folks who value downtown would take on that role for free, just because they care? I'm willing to bet there are plenty of passionate, talented young people who'd be willing to lead the charge. Jesus Correa wasn't mayoral material (nor is Morrissey, for that matter), but I wish Larry had taken my advice to acknowledge what Jesus does have to offer. Mr. Correa should have McCollough's job, and I'd be willing to wager he'd do it for free, or for a small stipend, and do it better.
The problem with the Element is that it's being led by the corporate likes of McCollough
and Ron Clewer. While part of me admires Clewer for his past involvement with NAT, I can't ignore that he's stooped to being a part of William Charles now. Seriously, for all the money Billy Chuck makes off of this city for its piss-poor roads, where are the philanthropic contributions to such groups by Rockford (Loves Park, more accurately) Blacktop?
Okay, here's what the local media had to say about the Element getting 50k.
WREX proclaimed, "The Element loses thousands of dollars in funding." How do they figure a $50,000 handout is a loss? Granted, the Element once hoped for $75,000, then $60,000 after someone reminded them the city is broke. I'm sure all the unemployed people who are unwelcome in downtown establishments feel your pain, Ed, but go fuck yourself.
WREX's story quoted McCollough: "I simply don't understand it. You have an organization that's been successful in fulfilling its mission, in being accountable, collaborating and helping to run a great event like Friday Night Flicks. And then you just arbitrarily cut them."
Obviously, McCollough didn't get the memo that taxpayers are tapped out, but he hasn't offered to cut his own frivolous salary. Also, Ed, most people have either a DVD player or VCR, which don't drain public funds to watch 30-year-old movies.
WIFR ignorantly reported that "
Aldermen approved taking 10-thousand dollars from another downtown organization to help pay for (On the Waterfront) security costs.
"
No such allocation was made of the 10k cut from the Element, and they'll probably get that money later anyway when it's discovered OTW is not an eligible TIF expense. But it's cute when TV people try to act smart by reporting falsehoods.
As the old SNL character Fernando would say, "It's better to look good than to feel good." Or, as Don Henley noted, "I just have to look good, I don't have to be clear."
TV news is about looking good, not about delivering factual information, but print isn't much better, as proven by RRStar, which stated the Element's budget had been "slashed," while ignoring who really lost in the deal.
I'm not sure why it wasn't in the print edition, but RRT did report on its site that the money came from the 7th St. TIF. Why the fuck is midtown having to pay for a pet project downtown?
I've evaded the Monday night regulars (mostly because I owe them money for deeply betting the judge would rule against the fire union recently), but as I watched Monday night's meeting, I was actually surprised by how much attention aldermen gave to this subject. Silent, however, was the alderman whose TIF was being raped to fund the Element. It's pretty sad when aldermen from other wards have to try to defend the 11th ward's TIF district because midtown's own alderman won't do so. In the end, Karen Elyea didn't care, so why should they? It went through, and the element has NOTHING to complain about, so zip it, Ed. Count your blessings.
A week before, Elyea stood up and had a mini-tantrum over a layover of the Element's funding request, oblivious to the council rules that even a layman knows. To me, that suggests she promised someone the request would be granted that night, because she wouldn't stand in the way of pouring dollars out of her ward into another-as though she has ANY clout. It makes one wonder where her heart really is, because it certainly isn't in the 11th ward that unwisely elected her. I'm not sure which is more hilarious: when she opens her mouth, or when she squirms like a child waiting for each meeting to end.
As I watch the meetings, while she sits there with a blank stare, I swear I can actually see a cupcake in a comic think-bubble next to her head. It would be funny if it wasn't such a sad outrage.
OK, so as not to be just some jaded critic, let me offer a suggestion, even if it's not directly pertinent to the Element.
The new RAVE Authority seems to be a major improvement over the Metrocentre do-nothings, and I applaud the private management that's being given an opportunity now. While Davis Park is too small for such events, it wasn't so long ago that major concert tours like Metallica and Lollapalooza landed at the fairgrounds in Pecatonica. That was pretty fucking huge. I hope the new Metrocentre management will consider taking advantage of that resource for more concerts that may otherwise ignore our area. Sure, it's in Pec, but they could still be Metrocentre events, from which Rockford would benefit. Just a thought.